Have you ever wished something in your imagination could become real? Like flying shoes, or a tree that grows pizza? Or, in the case of Dungeons & Dragons and other tabletop RPGs, a beloved character or terrifying monster?
Want to create a more immersive combat experience in D&D or another tabletop roleplaying game? Well, most people don't have room for a full-size dragon in their homes, so miniature figurines are the next best thing. The best D&D miniatures help you bring the imaginary to life!
The natural next question: where should you buy D&D miniatures? What about painted vs unpainted? And what if you want a custom D&D miniature for your very own character? We've got everything you need right here.
FYI: Some of the links in this post are affiliate links, meaning we get a small commission if you use them to make a purchase. While this is nice for us, we have selected the products in this article based on our real opinions and not on kickbacks.
Best Custom D&D Miniatures
Nothing beats seeing your own character brought to life on the table. These vendors can hook you up with a custom figurine to match the vision in your mind's eye.
Hero Forge
Hero Forge allows you to build custom miniatures in a step-by-step process, choosing from among thousands of options. You can customize virtually every aspect of your figurine, from facial expression and outfit to what they're carrying on their back.
Hero Forge offers a few different printing materials, including plastic and metal. If you happen to have your own 3D printer, you can also purchase the STL file to print yourself.
Perhaps the coolest feature of Hero Forge is the color plastic option. You can choose a premade color scheme or digitally "paint" every element of the figurine, then print it in full color! This is perfect if you don't want to paint your own figurine but still want color.
Pro-tip: Hero Forge is great for designing characters for virtual tabletops too! Even if you don't plan to print the miniature, it can be a great place to customize the look and feel of your D&D character. Give it a try!
Furry and the Beast
Furry and the Beast might be a good option if you'd rather work off of a drawing, or if you have hyper-specific character elements in mind. First, you send them a visual reference, whether it's professional artwork or your own janky doodle. Then, they walk you through the design process to make sure the custom miniature matches your vision. Finally, they send you both the STL file and your printed miniature, ready for painting (or not).
This probably isn't the cheapest option, mind you, but you're guaranteed to get exactly what you want!
Best Bulk D&D Miniatures
For when you need a horde of skeletons or a roving band of cultists, we suggest looking at these suppliers.
Reaper Miniatures
Reaper Miniatures is a staple when it comes to tabletop figurines. You can find a wide selection of premade miniatures for D&D as well as other games. There are single figurines like spellcasters, as well as groups of them like skeletons or zombies. It's worth noting that all of their figures come unpainted, so you can leave them as is or paint them exactly how you want.
For some less expensive options, check out the Bones Plastic collections.
Games Workshop
Games Workshop is the go-to place for Warhammer figurines, but they work perfectly well as D&D miniatures too! Plus, you can find larger quantities of creatures here, like a pack of 36 goblins for example. There are also a handful of larger, epic monsters if you want to work one in as a final boss.
Similar to Reaper, all of these miniatures come unpainted. And in the case of larger models, you will need to assemble the pieces yourself (though it's very easy to do).
Dwarven Forge
Dwarven Forge has a solid selection of D&D miniatures that come either painted or unpainted, including packs of creatures like guards or zombies. But what's a miniature without an environment to go along with it? You'll find awesome terrain pieces and sets to enhance your tabletop game experience here. Scary castles, winding dungeons, inviting towns—they've got what you need to bring your whole world to life!
Miniature Market
Miniature Market is exactly what it sounds like! There's a huge variety of miniatures for all kinds of games. If you're playing an official D&D module produced by Wizards of the Coast, you can find important NPCs or packs of monsters to go along with your game that are all painted and ready for play. You can also find lots of different monsters from other adventures, also painted and ready for play.
Honorable Mentions
While not miniatures in the traditional sense, these are two good alternatives for your D&D figurine needs.
Printable Heroes
Printable Heroes offers a huge collection of files that you can print on glossy photo paper, cut out, and glue together to create flat minis for your game. And the best part? Most of the available tokens are free to download as PDFs! If you've got time but your budget can't handle full 3D miniatures, then these printable files are just what you need.
The creator makes more of these files each month. To access the bonus content and higher tier files, you can subscribe to their Patreon.
ArcKnight Games
ArcKnight Games also offers flat miniatures for D&D and other tabletop RPGs. Theirs are printed on plastic with both front and back artwork, and they come in large affordable packs with a variety of colorful creatures and characters. This is a great place to look if you don't feel like printing anything yourself but want a budget-friendly pack of tokens to use in your game.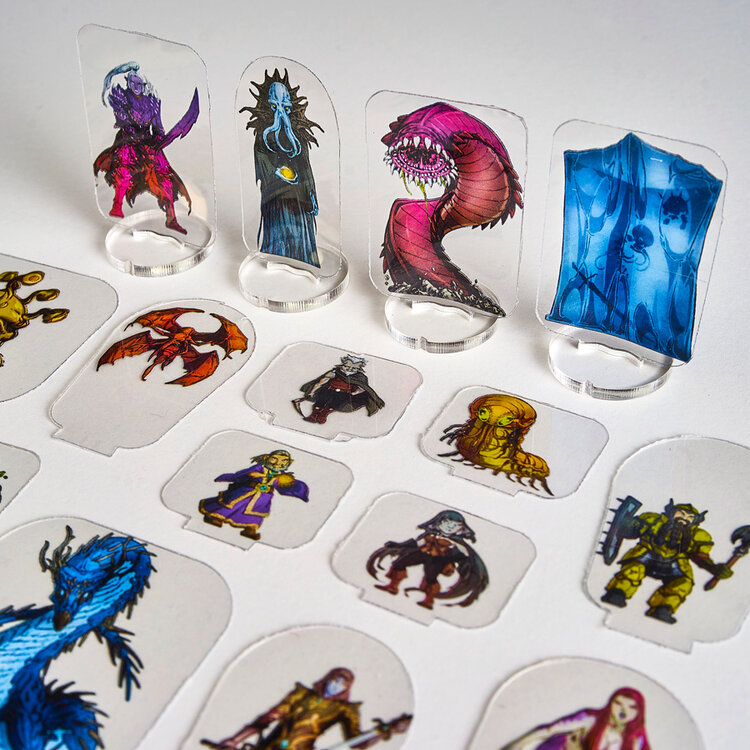 Conclusion
So next time you're wondering how to add that extra layer of immersion and excitement into your game, here's a handful of places for you to look. Whether you want a custom miniature for your favorite character or a bulk set of bandits for your players to wallop, we hope you find the object of your quest. Happy gaming!