If you're just starting out with Dungeons & Dragons, one of the first questions you'll probably ask is where to buy DnD dice. Thanks to the popularity of the game and the many players who collect dice sets like they're going out of style, you can now find cool dice in countless colors, styles, and materials to choose from, whether you're looking to drop $5 or $100.
Below you'll find a list of the best D&D dice brands, so you can find your perfect set. But first, here are a few things to keep in mind as you shop.
FYI: Some of the links in this post are affiliate links, meaning I get a small commission if you use them to make a purchase. While this is nice for me, I have selected the products in this list based on my real opinions and not on kickbacks. Enjoy!
Types of DnD Dice
Regular
If you're just looking for basic Dungeons & Dragons dice, a 7-piece dice set made from polyresin will work great. The material is inexpensive, you can find loads of colors and styles, and they are easy to find in pretty much any game store.
Special Material
For more unique D&D dice, you might want a set made out of a special material. Some examples include semi-precious stone, metal, wood, and even hops. However, these materials are considerably more expensive than regular polyresin.
Precision
The idea behind D&D dice is that the result of each roll is random. But the slightest imperfection inside a die is enough to throw off the balance, skewing the results a tiny bit. Most players don't notice and don't mind, but maybe you like the idea of a perfectly random dice roll. Precision dice are dice that have been machined to guarantee perfect balance, and thus, a truly random roll.
Where to Find the Best D&D Dice
This list includes dice sets at every price range, so you can find a set you love on your budget. Whether you're looking for cool DnD dice to get you through your first adventure, or something more unique to level up your collection, this list is for you!
#1 Dice Envy
Dice Envy also offers tons of different dice sets for DnD, including some higher-priced materials like metal and wood—you'll be able to find a set that matches your style no matter what kind of player you are. And if you're really looking to build your dice collection, you can sign up for one of their monthly subscription boxes for regular shipments of cool dice.
P.S. Use the coupon code 'Level1Geek' for 15% off!
#2 Easy Roller Dice
Easy Roller Dice has a wide variety of D&D dice sets, including a number of unique metal dice, plus a handful of other cool tabletop accessories! Not sure what dice you want? Try your luck with a "Deal of the Day."
#3 Kraken Dice
Kraken Dice has tons of fun colors, designs, and materials to choose from, including layered polyresin, gold foil inlay, and more. They also sell sets of "misfit" dice which are a mix of different dice all in one set. You can also purchase dice in bulk if you need a bunch on the cheap.
#4 Awesome Dice
Awesome Dice has a huge variety of DnD dice (and dice sets for other tabletop RPGs too!), including sets made from materials like gemstone or metal. You can sign up for their "Monthly Box of Awesome" subscription box to build up your collection. And if you have dice you don't want anymore, you can use their dice recycling program: your dice will be donated to a school somewhere in the United States, and you'll earn a discount on your next purchase!
#5 Dark Elf Dice
Dark Elf Dice offers a wide selection of styles and materials of D&D dice as well, including metal dice, hollow dice, and gemstone dice. You can even find glow-in-the-dark polyresin dice! Check their clearance section too for some cheap dice and accessories.
#6 Little Dragon Corp.
Little Dragon Corp. (based in Canada) is another great option if you want to shop a huge selection of DnD dice styles and colors. Most of their collection is polyresin and therefore less expensive; plus, they've got unique designs for birthday months and even weddings.
#7 Q-Workshop
Q-Workshop is a dice company based in Poland, but they ship their products around the world. Many of their unique dice sets are themed, like the Elvish, Dragon, and The Witcher sets. They're perfect for Dungeons & Dragons as well as several other tabletop RPGs like Call of Cuthulu, Pathfinder, and Cyberpunk Red.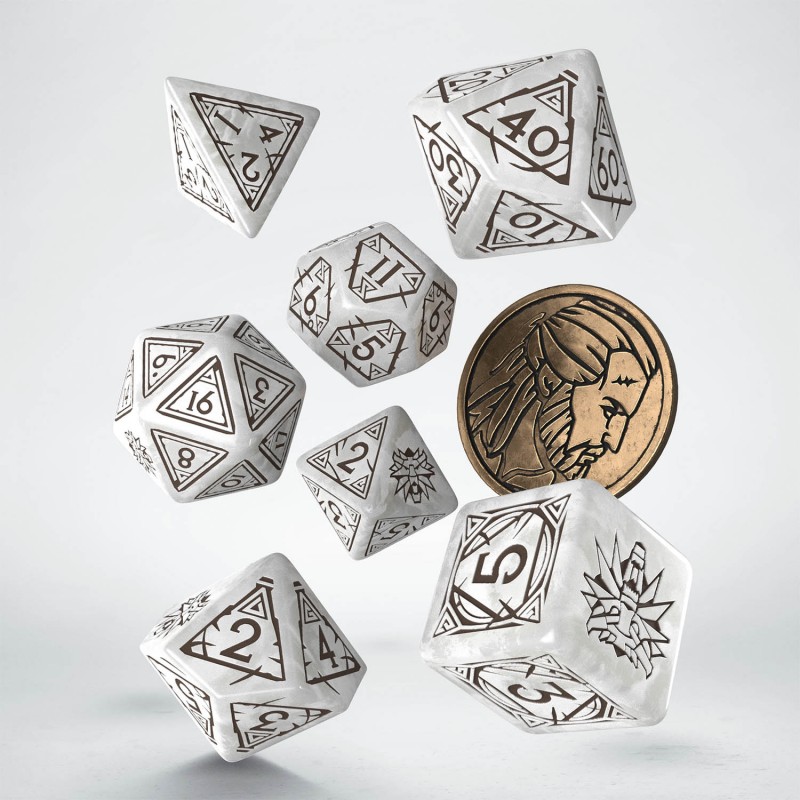 #8 Critit
Based in the UK, Critit offers really cool "spirit of" themed dice sets. Each set bears a spirit symbol instead of 20 on the d20, like a phoenix head on their Spirit of Phoenix dice. You can get anything from a mermaid to a dinosaur. Perfect for you druids out there.
#9 Artisan Dice
While on the more expensive side, you won't find more unique D&D dice materials anywhere else than at Artisan Dice. Some of their coolest dice sets are made from gator jawbone, old whiskey barrels, coal, moose poop, and hops. These aren't your everyday D&D dice!
#10 Metallic Dice Games
Metallic Dice Games started out with metal dice sets and has since expanded into other materials like gemstone and acrylic. This is a good place to find dice made from precious materials that are a bit less expensive than what you might find elsewhere.
P.S. Use the 'Level1Geek' coupon code for 10% off!
#11 Norse Foundry
If you're into top-quality, beautiful dice in a runic style, then you'll love the dice sets at Norse Foundry. Made from all kinds of high-quality materials, like aluminum, glass, gemstones, and pure metal, these cool D&D dice will look and feel awesome as you play.
#12 Level Up Dice
Level Up Dice is based in Australia, but they ship their luxury dice sets internationally. They offer DnD dice sets in several materials, including hand-cut semi-precious stones like obsidian, malachite, turquoise, and more.
#13 Gravity Dice
Gravity Dice creates precision metal dice that are designed to have perfect balance. These are a great option if you like the feel of rolling dice with some real weight behind them. They also come in a few colors besides metallic, like pink, blue, and orange.
Choosing the Right D&D Dice for You
Buying a new set of dice feels like the beginning of a new story. So many rolls yet to roll, so many crits and failures waiting for your character! What those dice are made of, their coloring, their number style, and everything else are a way to express yourself as a player—so choose dice that you like. Happy adventuring!